One year ago, we added Amaze Analytics to Insite, our FBA inventory management platform.
It's a data visualization software suite used by Fortune 500 companies like Wal-Mart, Costco, and Dell.
High volume Amazon sellers loved it. It helped them see weaknesses and opportunities in their business faster than ever before.
And because it was so powerful–valuable enough to warrant 6-figure yearly price tags–we charged extra for it.
Amaze Analytics for All
We're announcing that these powerful tools, previously only available to the Fortune 500, are included for free in all of our Insite for FBA software packages.
That includes rich and powerful reports like:
Inventory Portfolio Analysis
Identify and eliminate stale inventory
See how quickly products are selling
Find where competitors are undercutting you on price
Take action on products you are losing money on
Historical Performance Analysis
See year over year trends and variations in your sales and profit for individual products or suppliers
Identify whether sales are trending upward or downward and when
Analyze profit and sales performance over specific time periods for products to decide how much to order
See exactly when sales started increasing in previous years to decide when to re-order for the next year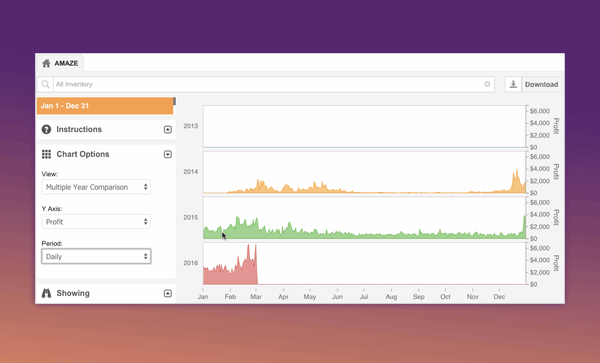 Storage Cost Analysis
Identify where you're spending the most money for storage fees
Find and eliminate old inventory that could be charged long-term storage fees by Amazon
Understand the average age of your inventory across buyers and suppliers
Part of a Complete, Data-Driven Suite for FBA Inventory Management
Amaze is the perfect complement to our core FBA software platform, which includes:
Automated FBA restocking
Customized repricing
SKU-level profitability reporting
Purchase order and shipment management
Product scouting
Book a demo today and see how Amaze can help drive more sales and efficiency for your Amazon business.